How to Shorten Trolling Motor Shafts
Introduction:
Trolling motor shafts are designed for large boats with high motor mounts. If used un-modified on a smaller boat or canoe, the motor must either be run much deeper than optimum, or the control handle must be raised so high that the operator's arm gets tired from the uncomfortable "ape-hanger" position. If you do not want to shorten your motor shaft, you can avoid arm strain by using an eCanoe Clamp-On Tiller Handle.
In these PDF downloads, you will find detailed instructions on how to cut down trolling motor shaft length to suit your particular needs. You will need a copy of Adobe PDF reader on your computer to read these files.
Don't have Adobe PDF Reader? Click on this image to download a free copy:

Study these instructions fully before starting to be sure the tools and various equipment is on hand to complete the job. The instructions have been designed for the average garage shop and common hand tools and supplies. It is assumed that you have basic skills in mechanics and electronic soldering and heat-shrink technology. Most supplies can be bought at your local hardware store.
Disclaimers: eCanoe and MEDesign assume no responsibility for the use of these instructions. Motor design is subject to change without notice, and is solely controlled by the manufacturer of the motor. Modifying a motor may void any warranty on the motor. Use all proper safety equipment to protect against bodily injury. magnetic fields can be very strong - if possible keep the motor rotor inside the field magnets (do not pull the rotor out of the case) to prevent injury to yourself and the motor.
All trademarks are the property of their respective owners.
Modifying Minn Kota Riptide Series 06 Motors:
Click on the picture to open the PDF manual (2.2 MB file size):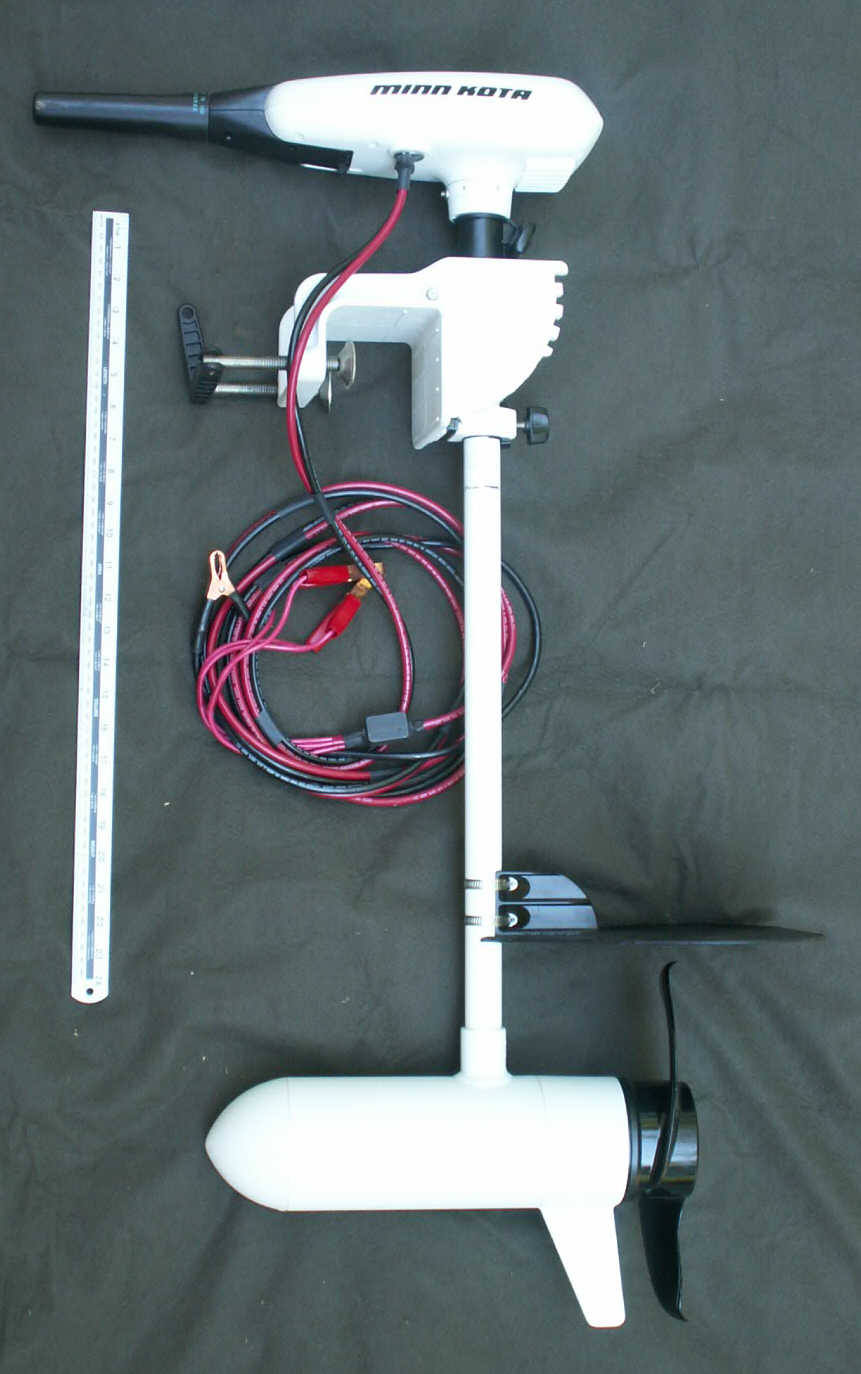 This picture shows the motor shortened for use on a canoe.
The 24-inch rule shows the size.
8-guage power wires have been added.
An eCanoe SC-01 cowl has been added for shallow running.
see The eCanoe Store for cowls and other equipment.